No-one likes a boring Christmas party, so if you have been organising the same cookie cutter event every year, it's time for you to make a big splash!
Just imagine how excited and surprised everyone will feel when you organise a party boat cruise on our state of the art 50ft Luxury Cruiser. There is nothing quite like the feel and ambience of cruising around the waterways of Port Philip Bay, especially for this year's Christmas work function.
You can take a slow cruise along the Yarra River, through the Docklands and Port Phillip Bay, spending the evening mingling, chatting and dancing with friends and colleagues. Our luxury cruiser holds up to 60 people and we have a range of fully catered menus, from finger food to seafood platters and buffets.
We are also now fully licenced to supply alcohol (or you can still BYO if you prefer), and we also supply soft drinks, tea and coffee. Plus with our high-tech iPod dock you can play all of your favourite tunes and Christmas songs. We can make it the ultimate boat party for you!!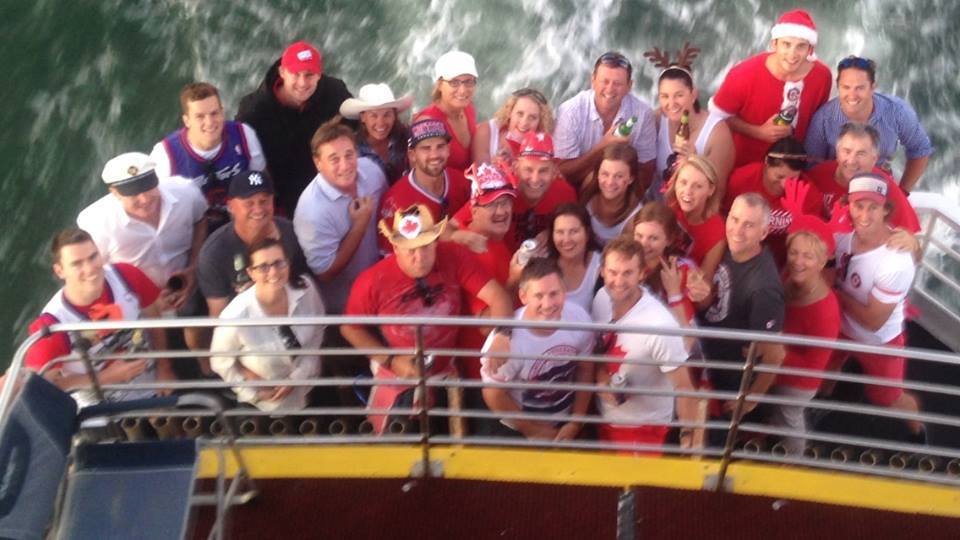 Here are 7 reasons why you need to call us today and arrange your fabulous Christmas party.
1. No gate crashers: You don't have to worry about anyone crashing your party, because once we leave the dock, the only gate crashers might be pirates! We haven't seen any pirates in Port Phillip Bay in a long time, so you should be completely safe on the water.
2. A start and end time: One of the problems with parties is that everyone dribbles in at the beginning and then won't go home at the end. You won't have any worries about this, because we leave port on time and dock back on time as well, so everyone is on and off together.
3. Unforgettable experience: A Christmas party can't get any better than dancing under the stars, checking out the beautiful city views and having a wonderful time catching up with friends.
4. No extra costs: With a set cost for your catering and non-alcoholic drinks, there are no hidden costs or empty wallets at the end of the night. Our BYO policy helps you to keep a tight rein on your expenses and everyone can safely enjoy themselves on board.
5. Fabulous food: Our experienced chefs offer you a range of scrumptious meals at a set price, so there are no surprises. If you want anything outside the box or some of your attendees have particular dietary requirements, that's no problem, because we can accommodate everyone's tastes on our luxury cruiser.
6. You don't need to do a thing: Once you have booked your Christmas Party cruise with us, all you need is to decide on a menu. There is no organising the caterers, hunting down a bar, band, decorations or anything at all. Simply make a phone call to us, and then relax and look forward to a fabulous Christmas Party this year.
7. Become the go-to party organiser: When everyone sees how awesome this year's Christmas Party has been, you will be the talk of the office. Making a good name for yourself has never been easier.
So if you want to step it up this year and organise a Christmas Office Party to remember,
call Williamstown Charters on 0409 944 375 and look forward to the best Xmas function ever!